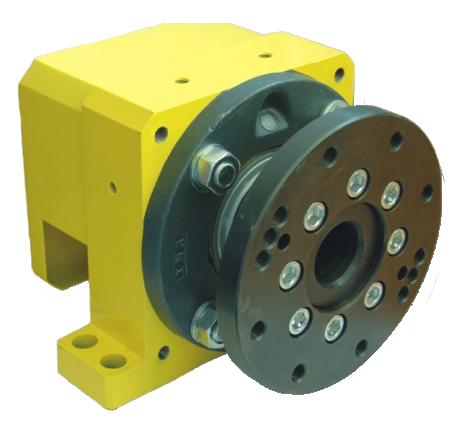 The RotoSpin C rotary (support) module is used for the capturing of tilting moments during the welding of large spatial parts, for the transmission of welding current, compressed air, electrical signals, etc. It consists of a frame, a rotary flange, a hollow shaft, a tilt bearing and a rotary welding current distribution unit. The hollow shaft allows to route compressed air and electric signal distribution lines.
Versions
The RS-C module is normally supplied with a rotary electric distribution unit for the welding current od 500 A. Upon an agreement with the manufacturer, the rotary distribution unit can be modified, or the module can be supplied without a distribution unit. The module is supplied in two versions, with feet or with a flange. The RS-C module for the horizontal or vertical axis of rotation is used as complement to the RS-A or RS-B module.
Maintenance
The rotary module does not require any special maintenance. When installing the rotary module, observe the respective dimensional and positional tolerances of the centering diameters. The rotary module is a high-precision product, therefore it requires careful manipulation, installation, and dismounting.
Delivery Conditions
The rotary module is delivered completely assembled, without fixing screws, grease lubricated, and in a protective package.
Each rotary modul is identified with an identification plate, including the following data:
manufacturer
production type and size
reduction ratio
model
manufacturing number

TECHNICAL SPECIFICATION
Size

Handling capacity
Speed

Max. welding current

Max. amperage
Max. voltage
Weight
Hole in the shaft
 [kg]
[min-1]
[A]
[%]
[V]
[kg]
[mm]

RS 250-C

250
10
500
60
40
22
40

RS 500-C

500
10
500
60
40
42
40

RS 1000-C

1000
10
500
60
40
50
40

 DOWNLOAD SECTION
 Catalogues:
 2D/3D Data*:
*3D MODEL ON CUSTOMER REQUEST, BASED ON WELDING CURRENT TYPE SPECIFICATION.