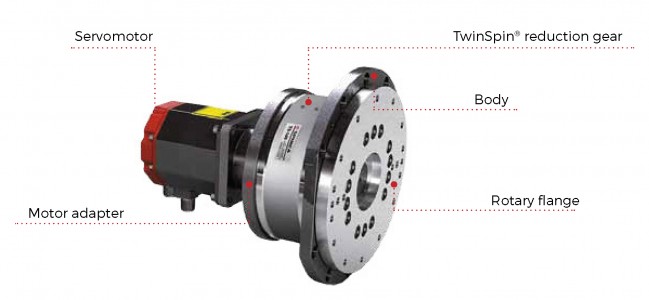 The rotary positioning module, which is offered under the RotoSpin brand, is designed for the building of positioning devices and rotary tables, which are used in automated and robotized workplaces. The RotoSpin module features a high reduction ratio, high kinematic precision, low backlash motion, high torque capacity, low weight, and a compact design.
The modularity of construction enables to connect different types of servomotors. Therefore these modules are normally produced without the drive, but with such special-purpose connecting equipment that is required by a customer for a given type of engine.
Advantages
Possibility to build into circular holes,
Possibility to attach to flat surfaces,
Low weigh and small dimensions,
Compact design,
Wide area of use,
Easy attachment.
Main parts
The module RotoSpin is built on basis of the bearing reducer TwinSpin®. The module can be delivered without a servomotor, with demanded connecting dimensions or with a servomotor, according to particular requirements of the client.
RotoSpin modules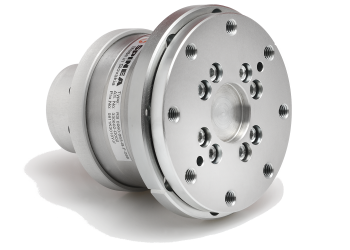 Modules are called flange modules. Their advantages are their small dimensions and weight that enables their use mainly in moving parts of the rotary positioners.
Modules are the so-called footing modules, made of a casing construction that enables simple and safe fitting of the module to the base frame.
Fill in your contact details so that we can provide you with our professional advice.