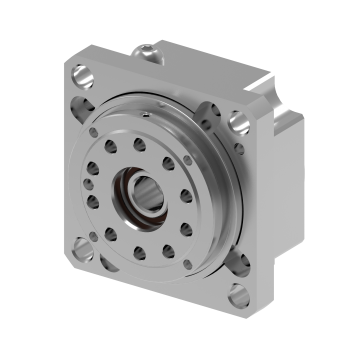 The M series represents TwinSpin® high precision reduction gears of mini sizes. The M series is filled with grease for lifetime. The sealing of the M series reduction gears is secured by sealed (2RS) ball bearings, which are used as output bearings of the reduction gear, and also as the housing of the input shaft of the reduction gear (slight leakage of lubricant is allowed). Upon customer's request, SPINEA® is able to supply a completely sealed reduction gear. This design of the reduction gears allows the load to be mounted directly on the output flange or the case without the need for additional bearings.
Advantages
 small dimensions and compact design                      
 fully sealed by 2RS ball bearings
 simple installation 
 zero-backlash reduction gear
 very low mass
 very high power density
 output deep groove ball output bearing with very low friction
 high performance of the reduction gear

 high precision
 high torsion rigidity
 high linearity of torsion chracteristics

 very low friction and high efficiency
TwinSpin M series mini reduction gear versions
Shape of the case


a) The mounting part of the case is located on the ouput side           of the TwinSpin high precision reduction gear

b) The mounting part of the case is located on the input side           of the TwinSpin high precision reduction gear
 

Input shaft connection


a) Direct connection of shafts without couplings. The motor shaft is aligned with the hole with a keyway

b) Indirect connection of shafts with rigid or flexible couplings

c) Shafts are aligned according to the customer requirements

 
The M series high precision reduction gears are manufactured in several modifications according to the specification of the shaft and the case.
M series ordering specifications
Name

Size

Ratio
Series
version
Shaft version
P 
H
S

 

TS

 

50

47, 63
M
6
8
according to special request

Note: An example of an ordering code of a modified TwinSpin reduction gear with a motor flange: TS 50 – 63 – M - P6– M235 – P231. The markings M235 and P231 for a specific modification are defined by the manufacturer.
Size

Reduction ratio
Rated output torque

Acceleration and braking torque

Permissible torque at
emergency stop
Rated input speed
Rated output speed
Max. continuous input speed
Max. allowable input speed  1)6)
Tilting stiffness 1)
Torsional stiffness 1)
i
TR [Nm]
Tmax [Nm]
Tem [Nm]
nR [rpm]
nRout [rpm]
ncmax [rpm]
nmax [rpm]
Mt [Nm/arcmin]
kt [Nm/arcmin]

TS 50

47

63

18
36
90
2000

32

3000
5000
4
2,5

RIGHT TO CHANGE WITHOUT PRIOR NOTICE RESERVED
1/ Mean statistical value.
2/ Load at output speed nRout=nR/i. for TS 50 M it is 32 [rpm].
3/ Tilting moment Mc max at Fa=0. If Fa≠0 see par.3.5.1.
4/ Axial force Fa max for Fr=0, Mc=0. If Mc≠0 par.3.5.1.
5/ Radial force Fr max for Fa=0. If Fa≠0 see par.3.5.1.
6/ At 50% ncmax (max input speed in cycle)
7/ Applies to standard version of the high precision reduction gear with shaft connected by a key-way.
8/ a2 - is the distance of the radial force centre from the front of the output flange [m].
Average no-load starting torque 1)
Average back driving torque 1)

Max. lost motion

Hysteresis
Max. peak tilting moment 2)3)
Max. radial force 2)4)8)
Max. axial force 2)5)
Input inertia 7)
Weight 7)
[cNm]
[Nm]
LM [arcmin]
H [arcmin]
M c max [Nm]
F rR [kN]
F a max [kN]
l [10-4 kgm2]
m [kg]

4

3

3

2

<1,5
<1,5
44

 

a2=0

1,44

a2>0

0,044/(a2+0,0305)

 

1,9
0,007
0,47

Note:
Load values in table are valid for nominal life Lh=6000 [Hrs].