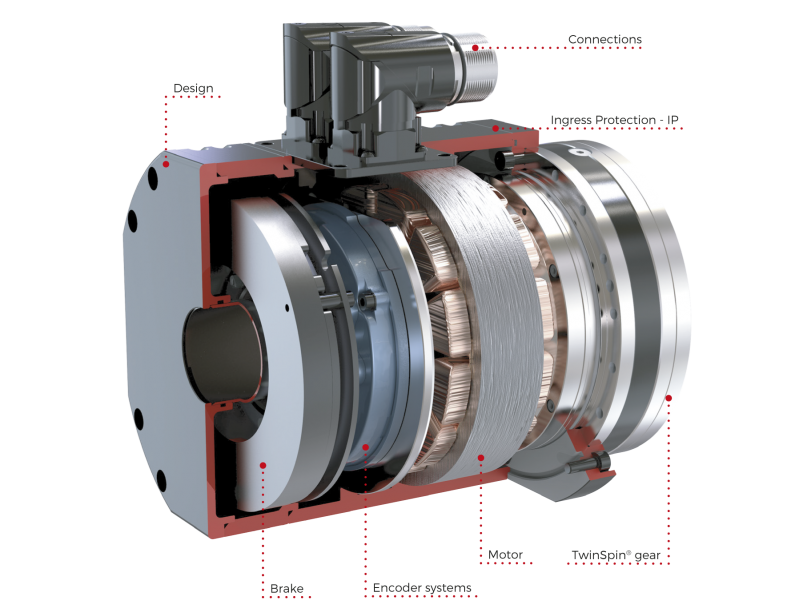 The rotary electric actuator can be designed and manufactured according to your specific application requirements. The input and output technical specification can be designed and optimized for you.
Advantages
Create your own design,
Integrate unique mechatronics componenets (Servomotor, Enoder),
Make your own color design,
Optimize input and output characteristcs of the actuator according to your application.

Motor
Motors are directly implemented to DriveSpin®, without any need for aditional coupling. This help to reduce weight and dimensions of whole solution. Main type of motor is synchronous motor with permanent magnets. Standard verisons of motor implemented in DriveSpin® are 24V, 320V and 560V. Low voltage range is possible to modify to 36V 48V and 60V, high voltage to 680V. These motors are custom solution and they are modified to suit our customer. If there is special requirement or our solution is not suitable for you we can implement any frameless motor and calculate final parameters of DriveSpin®.
Encoder systems
DriveSpin® actuator with cycloidal gearbox excel in terms of precision positioning however this would not be possible without the implementation of position feedback sensors. Our primary industries such as robotics, machine tool, dental machines, CNCS require different accuracy standards. Thus, requirements for motion control differ on application. Therefore, our company consults your needs and requirements. Our specialists will analyze your application and find the best solution in terms of accuracy, precision measurement, robustness as well as compatibility with your control system. Actuator series DS, DSH, DSM as well as DSF come with a wide variety of feedback systems. Our portfolio includes sensors from basic feedback systems used in most servo drives such as incremental encoders to next generation protocol encoders such as (EnDat 2.2, Hiperface DSL, BiSS-C). Technical parameters like resolution, sensor protocol, single vs. multiturn are specified in the process of development of the custom product. Supported encoder systems: HIPERFACE®, HIPERFACE® DSL, EnDat 2.2, Resolver, BiSS Interface, DRIVE-CLiQ, FANUC.
Brake
Brakes in our actuators are mostly used in static applications which statically hold the load in absence of power. Usually is used electromagnetic brake, where in currentless state (without connected DC voltage) the armature becomes engaged with brake disk and after apply DC voltage to brake, magnetic field is neutralized and brake released to free rotation of actuator. Electromagnet ic brakes are also used in dynamic applications where actuator use brake for deceleration or as safety brake, but these application requires different calculation and implementation to the actuator. Standard in our product range is 24 VDC electromagnetic brake for static applications, but we can implement also 12 VDC electromagnetic brakes, brake with handle release or any other brakes developed for servomotors.
Connections
Electrical as well as mechanical connection used for standard DS, DSH, DSM and DSF are all available in this catalogue. However, our electrical and mechanical engineering team can adjust most of the connection possibilities according to the requirements of the end customer.
Design
Every piece of DriveSpin® series, either DS, DSM, DSH or DSF, has its own unique design. If you require specific design of the housing or mounting flange, or if you need to adjust design to your own aplication, our specialists are ready to prepare a solution according your demands. It is also possible to place a special ID plate (e.g. QR code) to meet your production processes. Of course, the use of your specific colouring is also possible.
Ingress Protection - IP
Ingress Protection of our standard product range is IP 64. If your application requires higher IP, we can design all components of DriveSpin® actuators to reach IP 65, 66, or even 67.
Testing
All our products from the DS, DSH, DSM and DSF series are subjected for testing are standardly tested and comply with the European standards, CE. Our company dispose with various test benches, which can be used for simulation of various duty cycles according to the customer specification. We are able to provide for you independent testing of our products according your requirements and our capabilities
Fill in your contact details so that we can provide you with our professional advice.