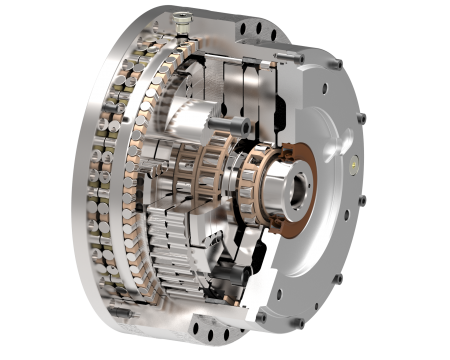 The notion "high precision reduction gear" designates the full integration of high precision reduction gear and high precision radial-axial bearing in a single unit. TwinSpin® high precision reduction gears are designed for applications requiring a high reduction ratio, high kinematic accuracy, low lost motion, high moment capacity and high stiffness of a compact design with a limited installation zone, and low mass.
This new transmission concept allows the utilization of the reduction gear TwinSpin® in robotics and automation, machine tools, measuring equipments, navigation systems, aircraft industry, military and medicine field, wood-working field, printers branch, machines for textile industry and glass treatment, filling machines, etc. 
The basic parts of TwinSpin® high precision reduction gear are: 
case

 

-

 

incoporates the high capacity, precision radial-axial output bearings integrated in the reduction gear
output sealing

 

- on the output flange side, it prevents internal contamination and lubricant leakage from the reduction gear
flanges

 

- input and output flanges are fixed together by fitted bolts, and rotate at reduced speed in the radial-axial output bearing relative to the case
shaft

 

- high-speed member of the reduction mechanism carried by roller bearings in the flanges. Bearing raceways are ground directly on the shaft and the flangers. The shaft eccentrics rotationally support the trochoidal gears via roller bearings
trochoidal gearing

 

- their trochoidal profile with almost 50% simultaneous meshing ensures transmission of the high torque and backlash-free performance of the reduction gear
transformation member

 

- transforms the planetary motion of the trochoidal gears to the rotary motion of a pair of flanges

High precision reduction gear and high precision radial-axial bearing in a single unit.