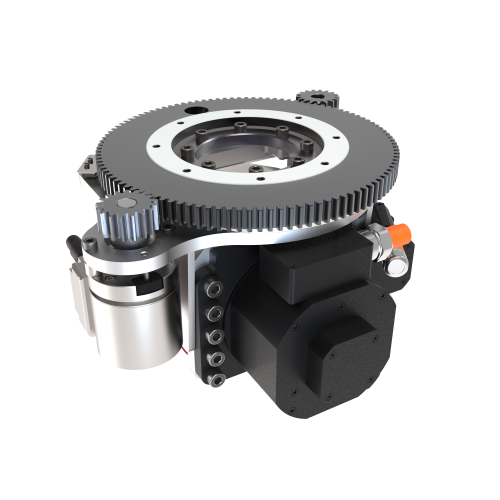 MoveSpin is one of the key components for designing the AGV/AMR vehicles used in the production and logistics. AGV and AMR systems are significant in modern production, warehouse, and logistics supply chains.
The primary role of these vehicles is to drag, guide and transport different kinds of cargo by using peripheral devices designated for safe maneuvering in the area. The demand from the customers is usually aimed at more complex solutions based on the combination of cell production and AGV/AMR system.
AGV/AMR vehicles are designed for 24/7 operation and transportation of heavy cargo with specific demands on radial load (payload), transfer speed, compact size, reliability, and lifespan which can be acquired using reduction gear TwinSpin®.
This reduction gear has strengthened main bearing, lowered weight, and reduced the value of lost motion to ≤ 2. Our traction wheel MoveSpin applies to any type of drag and transport application. Thanks to the diversity of the product portfolio, it is possible to design different combinations of the AGV/AMR units, such as a traction unit with a steering unit and differential unit with or without reduction gear.
MoveSpin is delivered with special tires wheels with polyurethane surface, which can be selected from various manufacturers such as VULKOLLAN®, VULKOSOFT®, etc.
AGV applications in segments:
• Automotive
• Food & Beverage
• Healthcare & Pharma
• Packaging
• Paper & Printing
• Production
• Warehouse & Distribution
• Agriculture
• Military
Empty
Traction and Steering units

This MoveSpin category represents a complex unit that includes a separate drive for traction and a separate drive for wheel rotation. In the case of a traction drive, the composition is the same as for a differential units.
For steering, it is usually a combination of a servomotor, a reducer (planetary gearbox, angular planetary gearbox, or worm gearbox), and a gear wheel connected via a bearing to the main structure, which can be rotated.
Additional elements, such as end sensors for rotation, safety sensors or others, are mostly customized to the customer's requirements.
Differential units (Traction units)

Basic MoveSpin category consists of servomotor, reduction gear, encoder, brake and wheel with Polyurethane surface.
Servomotor without reduction gear is used in specific application where demand for wheel payload is not high.
Fill in your contact details so that we can provide you with our professional advice.