New technologies often emerge from the dreams of artists and writers. Dreams are then adopted by pioneers who, after careful engineering work, are able to turn them into concrete technology. In this way, older generations of engineers in the past have often drawn on ideas from Jules Verne's books, while younger generations of engineers have been inspired by films such as Star Wars or Blade Runner. SPINEA® is one of the pioneering companies that can turn inspirational dreams into modern technological reality.
     For many years, SPINEA® has been one of Europe's well-known and dynamically developing technology companies in the field of high-precision compact reduction gearboxes and drives. The unique patent-protected gearing principle gives the TwinSpin® cycloidal gearboxes extraordinary precision and enables high torques to be transmitted in a small footprint. This gives a solution to equipment makers where high torque density is a prerequisite.
     SPINEA® has the smallest cycloid gearbox on the market in its portfolio. The TS 050 M-series has a rated torque of 18 Nm and a peak torque of up to 36 Nm at a weight of 460 g.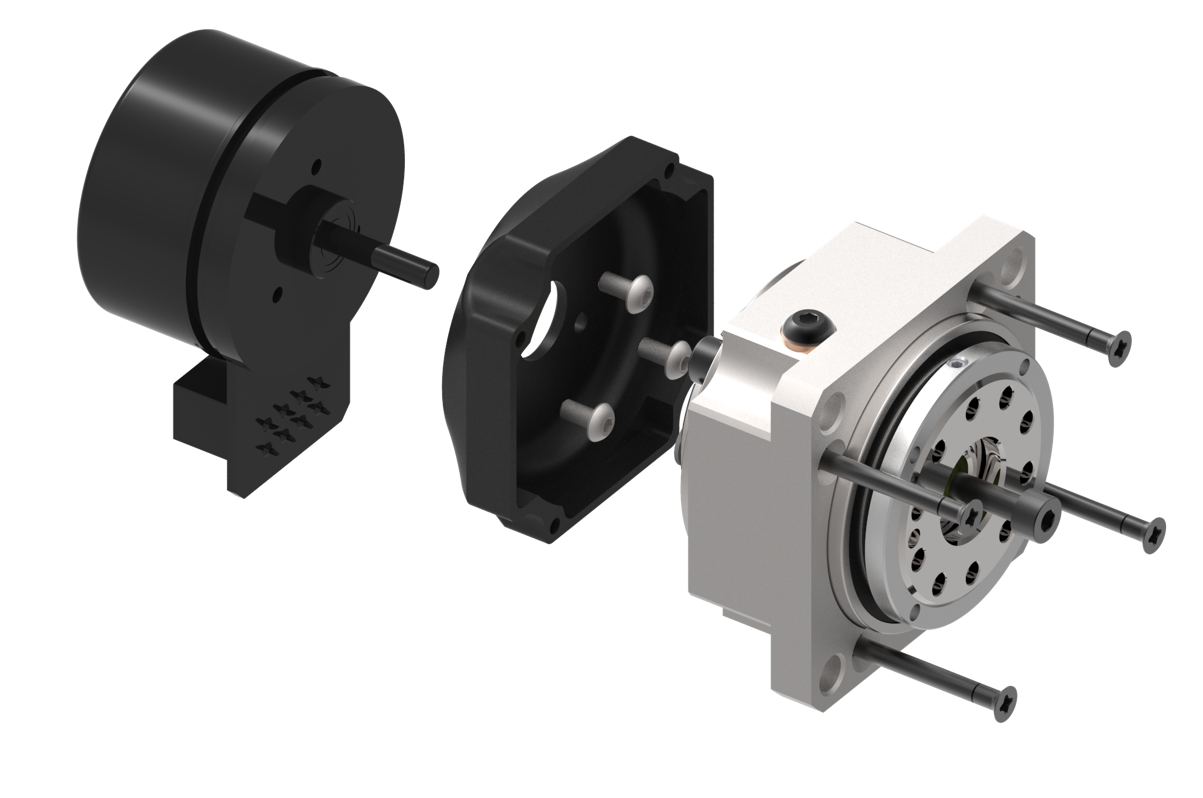 Picture - TwinSpin ®TS050 M series and EC maxon motor
     Maxon has been developing precision positioning actuators since 1961 and is renowned for the high precision that characterises products from Switzerland. Their products can also be found in space, where they drive parts of satellites or various vehicles in very inhospitable atmospheres, such as a small helicopter or a wheeled vehicle for collecting rock samples from the surface of Mars. Today, Maxon has developed a family of flat motors with maximum compactness and usability for DC power from V 24or 48 V batteries. Among other numerous applications, Maxon uses these motors to produce powered compact joints for exoskeletons that find applications in a variety of fields including medical, industrial, occupational and military purposes. In healthcare, exoskeletons can be used, for example, for permanent support or rehabilitation of a non-functioning limb after an accident. Industrial uses include supporting the human musculoskeletal system to prevent overloading and injuries when performing heavy tasks. Enhancing the human ability to bear loads is also currently a focus for use in the construction industry and the military.
     SPINEA® was approached by the BRUBOTICS robotics research group of the Vrije Universiteit Brussel (VUB) in Brussels with an innovative project. This group has extensive experience in researching advanced robotic devices, having been involved in many prestigious European projects. For the new exoskeleton project, an extremely ultra-light and efficient actuator was required, which was beyond the capabilities of commonly available actuation technologies. To solve this challenging goal, the VUB team proposed to combine the Maxon EC-flat motor with a new gearbox from SPINEA®, based on cycloid reduction gear technology. This gearbox technology is commonly used in the joints of large industrial robots, but is so far rarely found in lightweight collaborative robotic applications.
     The specific requirements of this drive presented SPINEA® with some interesting challenges:
Minimise weight to achieve maximum torque density

Good impact resistance, common in exokelet applications

Minimise no-load losses to achieve high efficiency even at part load

Maximises user convenience in terms of maintenance, spare parts and easy replacement of major drive components    
Minimise weight to

achieve

maximum torque

density
The lightweight design helps match high productivity with safety and is the foundation of any collaborative robotic facility. For exoskeletons and other wearable robotic devices, it enhances comfort and usability. Weight minimization strategies typically involve the use of high-end materials and/or the integration of new technologies. In modern robotics, weight minimization efforts typically focus on actuators, as they take up a large portion of the total weight of the device. Our solution combines the best components from the standard portfolio of both companies. Maxon provided its new flat EC motor and SPINEA® contributed a cycloid reducer that is the smallest and most compact in the world. Miniaturization and SPINEA®'s advanced technology made possible what even Japanese manufacturing technology could not achieve, resulting in a benchmark torque density for this use case.
Resistance to significant impacts
Frequent impacts and unforeseen loads are common to most robotic devices and must be taken into account when designing their components. In cycloidal gearing, the gear mesh is extended over a large portion of the gear's circumference, resulting in a greater relative mesh than in planetary or harmonic technologies. When impact occurs, multiple cylinders of the cycloidal reducer engage simultaneously and can share the resulting overload, greatly increasing the resistance of these gearboxes to impact loads.
Minimise losses when running at idle
High efficiency, especially in part-load applications where mobile robotic devices such as exoskeletons are often used, is a key advantage of these devices, which are typically battery-powered. The principle of operation of SPINEA® technology is based on the dominance of rollers that transform the motion. A precisely defined clearance at the micron level is achieved by combining extremely precise geometric tolerances with the selection of the appropriate lubricant and its precise dosage, resulting in a very compact unit with maximum efficiency. In this way, a peak efficiency of over 85% can be achieved with the TS 50 series. After break-in and gradual use, the efficiency increases even further.
Maintenance and easy parts replacement    
     In the near future, exoskeletons will be deployed in a variety of environments, ranging from collaborative indoor tasks such as those in rehabilitation clinics, to outdoor operations, often in inaccessible areas that typically involve extreme weather conditions, such as in military applications. This will significantly condition on-site maintenance, component replacement and replacement requirements, consequently avoiding complex assembly and disassembly procedures. The drive has been designed to meet such needs, using components that are part of the standard product portfolio. Assembly and disassembly of the components is simply carried out by tightening and loosening the screws, simply observing the prescribed tightening torque.
      The prestigious Belgian university VUB in Brussels approached SPINEA® to carry out the project completely independently. The VUB robotics team independently analysed all the prerequisites and selected Maxon and SPINEA® as the most suitable candidates for the supplier to implement their actuator concept. SPINEA® modified the existing gearbox to adapt it to the needs of this new segment and to enable a reliable and convenient actuator integration that matched VUB's expectations. The result of the collaboration is an extremely compact and lightweight actuator (650 g) with excellent efficiency even under part load. The actuator is capable of peak torques in excess of 30 Nm. This set of specifications also makes it an interesting candidate for other applications where compactness, precise positioning and 24 V and 48 V power supply are required.
     The success of the project for the Brussels VUB opens up new opportunities for us to collaborate with other companies that are working to implement new technologies that go beyond current possibilities and help innovative ideas move from the realm of fantasy to a new technological reality.