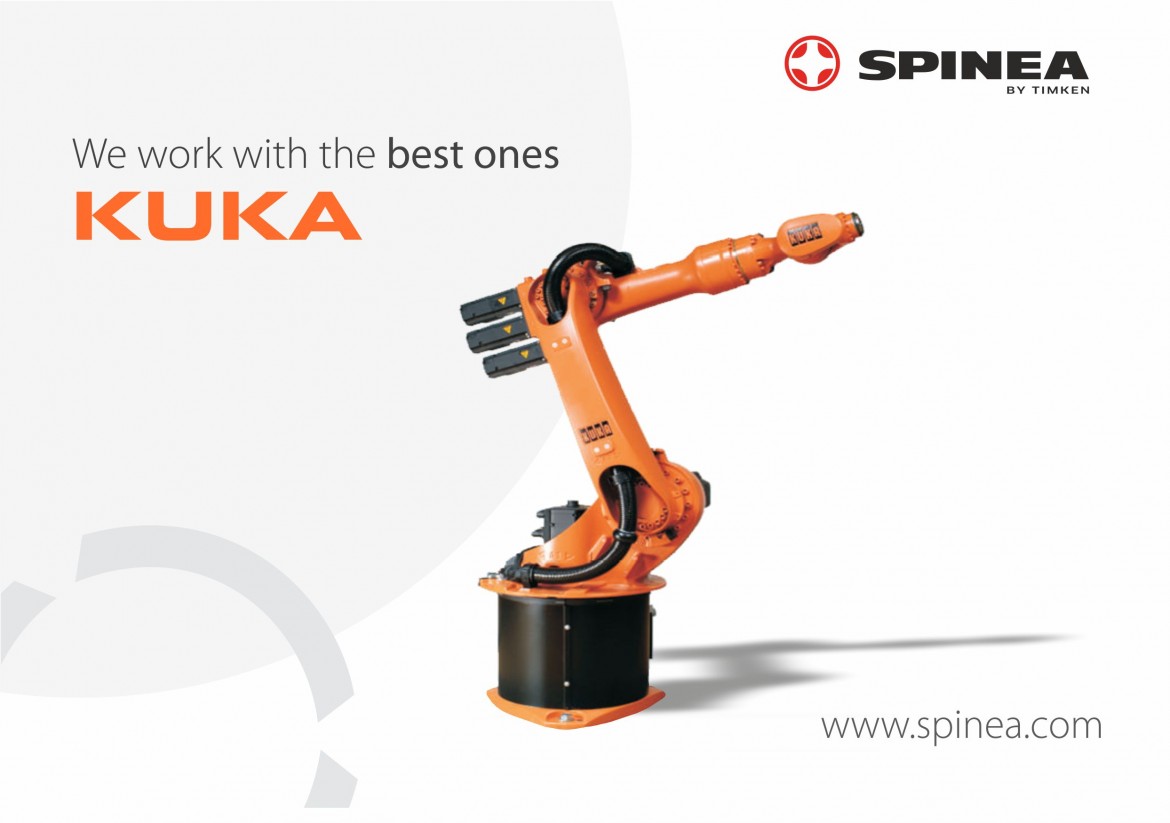 Robot is the only global name of automatic equipment able to respond to the surrounding signals and to make feedback to the surroundings. The robot roots can be found in the former Czechoslovakia. The first official use of the name "robot" appeared in the dramatic piece written by the Czech author Karel Čapek R.U.R. in 1920. K. Čapek wrote the dramatic piece in Slovakia, Trenčianske Teplice, where his father performed as a spa physician. In the dramatic piece, robot was presented as a technical threat. (Source: https://sk.wikipedia.org/wiki/Robot).
Robots deployed in real industry eliminate the threat and replace the workers in demanding work. Initial robot loading capacity was determined according to maximum loading capacity of male and female workers. Thus, companies manufacturing the robots focused on initial 15 – 20 kg maximum loading capacity of the robots. These robots were most frequently used as universal devices thanks to the extensive range of applications, starting from very precise up to less precise robots, from slow operations up to dynamic applications. 
The concept of universal robot with six degrees of freedom has created the basis of mass robot production, and gradual production cost reduction and increased availability of robots.
  High application range of robots represented the aim of every 6- axis robot manufacturer. These robots were integrated in a broad spectrum of applications starting from precise welding and assembly processes aimed especially at maintaining preciseness, up to less precise but dynamic handling applications, for example automation of product transfer in CNC machine focused on maximum reduction of inter-operation time.
These trends represented the reason of investments of initial development activities of company SPINEA® in the reduction gears that met the requirement of high preciseness and functionality for such a robot type. Robot manufacturing companies were addressed in 1997 when the company SPINEA® confirmed functionality and reliability of the new concept of high precision reduction gears, and these companies confirmed their interest in the testing within the new industrial robot development trends. The first significant chance of reduction gears integration in the robot with maximum universal nature has appeared with loading capacity of 16 kg -KR 16, bearing global brand name KUKA®. This chance has mobilized the engineers from both companies and their cooperation resulted in the successful robot testing with excellent outcomes. After 2000, the cooperation expanded to further implementations of high precise reduction gears in the robots of European and Asian brands. However, none of them reached such significant commercial success of company SPINEA® as in the application of the first robot KR 16. During period from 2000 to date, more than 70000 reduction gears intended for the stated robot type including its modifications were sold.
Long- term product supplies have established mutual confidence and ability of company SPINEA® to develop further products for further robot types and generations one of the global leaders – company KUKA®.
Latest G-series of high precise reduction gears TwinSpin® made by company SPINEA® was developed and integrated in the latest robot types within joint development of the reduction gear and robot. This new construction of reduction gears was designed with the aim to minimize the dependent component tolerance chains in the concept and thereby to ensure high rigidity and preciseness of the whole unit. Similar to the preceding series, G-series reduction gear TwinSpin® doesn´t have flexible elements and gearing is realized exclusively through rolling elements. Especially in this series, rolling elements can be selected so as extensive variability of technical parameters (preciseness and efficiency) is reached.
This concept allows for construction of reduction gears that are less precise but reach high values of efficiency and friction. These reduction gears represent an ideal choice for dynamic robot applications in the segments of high-speed machining operations. Concurrently, it is possible to make reduction gears of the same external dimensions but higher friction and extremely high preciseness. These reduction gears are an ideal choice for high precise robot applications in the technology segments that require high preciseness. As an example, we can state laser welding, finishing machine work or assembly operations with high tolerance.
This uniform reduction gear concept with different technical parameters allows for production of the same robots with various technical parameters.
Robot makers can focus on particular client´s application and satisfy them in two preciseness classes as much as possible:
In case of less precise applications with friction parameters reduction, energy consumption can be reduced in the drive unit, and operating cost saved.

In case of precise reduction gear applications, robot can be used in extremely precise movements within long- term life, and thereby prolong the use of entire technology in the robot cell, and increase the application profit rates.  
Robots used in both above applications can be of the same structure, external dimensions and control system. Reduction gear modification can ensure better parameters without cost increase. This concept will extend the use of robots in the areas that the universal robot concepts have not been able to cover effectively; namely the areas of high preciseness and high efficiency.
Company SPINEA® is open to cooperation on the development of new robots. Long- term cooperation with companies dealing with robot solutions, taking more than two decades, represents an ideal foundation for new, more efficient robot applications in the future required by the Global Industrial Robot Solutions and Automation 4.0.