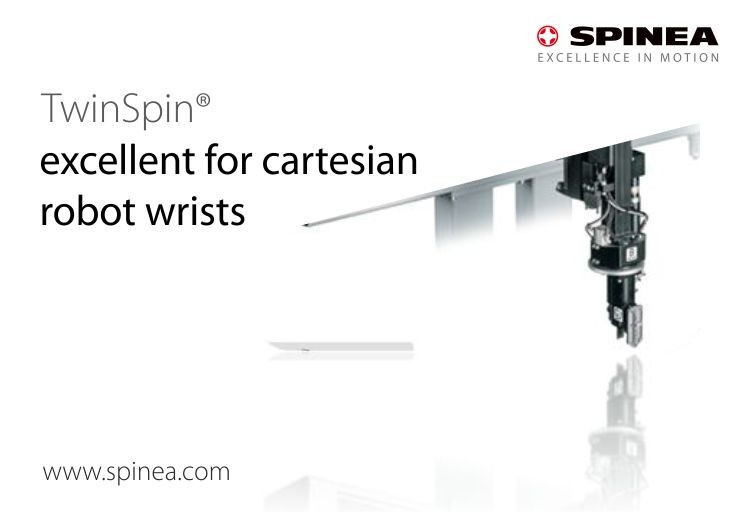 Market with forming machines, e.g. molding press machines, has currently reported boom. A few recognized companies supply complex solutions for forming parts production, including complex machinery for automatic handling with these parts. Reduction gears TwinSpin® from company SPINEA are integrated into the rotation arms and in the wrist of the Cartesian robot axis. Companies have been using these high precision reduction gears for many years, appreciating their technical properties.  
High precision reduction gears TwinSpin® were developed for robot applications; focusing on exact parameters and compactness.  These properties are highly appreciated because of the additional axis or wrist of the Cartesian robot, aimed at minimizing the weight of all components. Torque density parameter was determined as of key importance for robot solutions; in particular, torque divided by mass. The parameter indicates the trend of weight reduction in this industry upon concurrent maintaining of output torque value. It is also useful in the reduction of total robot operating costs. Any reduction of the wrist weight results in a reduction of operating energy and subsequent operating cost savings. Handling movements are always associated with potential collision and damage. Spinea shows very high emergency torque, which is the best parameter to avoid potential key component damage, namely collision of bearing reduction. High emergency torque in the gears TwinSpin® is ensured by many rollers inside the transmission. All these rollers avoid potential damage caused by a collision. The engagement of multiple rollers is typical for the principle of TwinSpin® reduction gears. This parameter is rather limited in various principles of reduction gears. For example, high precision reduction gears with harmonic drive show smaller emergency torque. Only two flex spline points are involved in the transmission principle. Planet reduction gears are similar, where emergency torque is associated with a few teeth connected.  
Additional rotating movement often represents an integral part of Cartesian robot applications and it significantly adds to the machinery reliability and effectiveness. The SPINEA product is a suitable solution for stable and effective use.  The product is excellent for long- term use, it doesn´t require maintenance and is very sturdy in case of collision.
Team of application engineers at company SPINEA, s.r.o.  helps a client choose proper high precision reduction gears and prepare a suitable design. The team also develops and produces the unique high precision product suitable for a particular application, ensuring thereby maximum customer satisfaction.