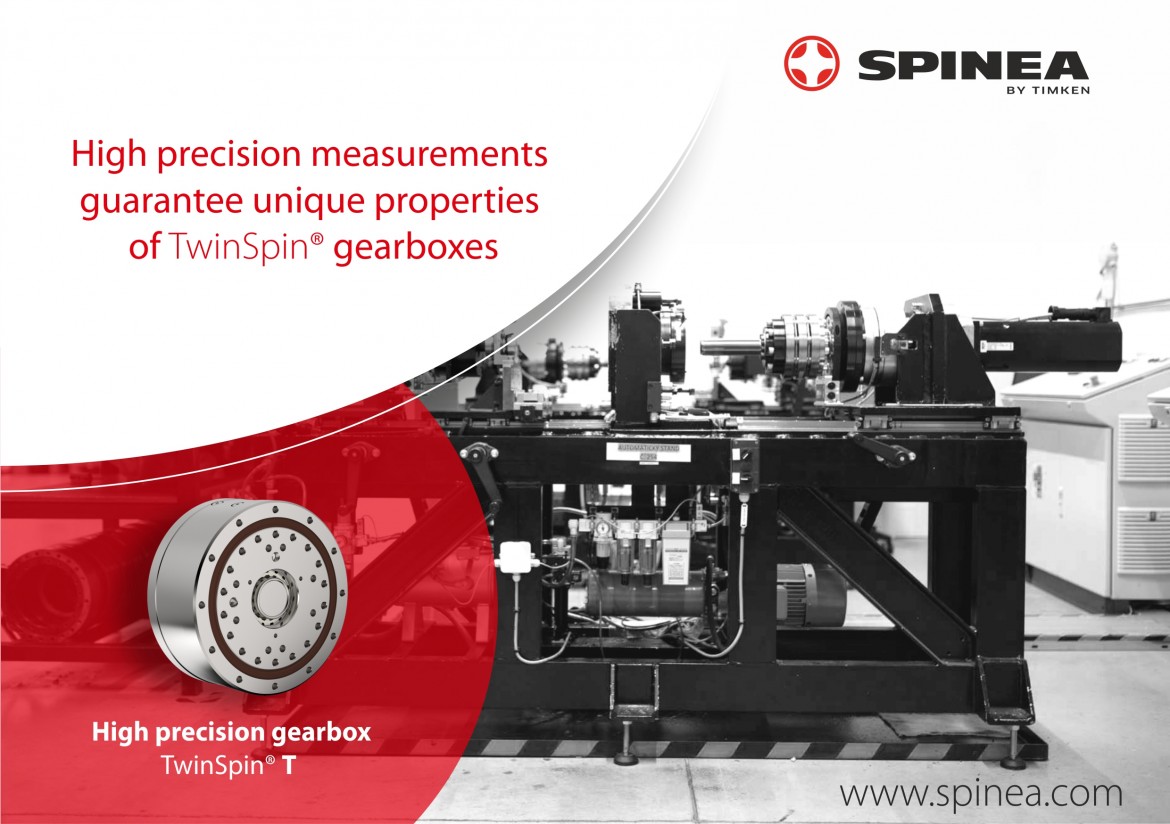 The TwinSpin® high-precision backlash-free cycloidal reduction gearboxes manufactured by SPINEA® are among the world market leaders.
     The individual components of gearboxes are manufactured to extremely high precision, but there is always some dimensional variance in series production. Parameters have been introduced to specify the accuracy of the gearboxes:
Lost motion (LM) is an important parameter in high-precision gearboxes. It is the angular deviation between the input part (shaft) and the output part (output flange) under load. This deviation represents the sum of all dimensional and geometric inaccuracies arising during manufacturing and the flexibility of the gearbox components. This deviation affects the resulting accuracy of the assembly at the customer's site.
H - Hysteresis is the second important parameter in high precision bearing reducers. This parameter expresses the degree of internal resistance in the gearbox.
     SPINEA® measures H and LM parameters on all gearboxes going to customers on highly accurate, specialized stands, according to a standard and unified methodology. This measurement guarantees the customer that the parameters are in line with the requirements.
     Based on the individual matching of components in the gearbox, we can offer the customer, in addition to the standard parameters described in the catalogue, also customized parameters.
The following should be considered when selecting a gearbox:
If the application requires higher precision and therefore LM lower than standard/catalogue, then the gear is steamed with more micro-precision of the individual components. The gearbox duty cycle must account for this condition. Such a gearbox must operate in pause or low input speed cycles.

If the application requires a higher input speed or continuous operation, then it is advisable to select a gearbox with a higher LM. After a short break-in period, overlaps between components will be optimal, wear will be minimized and the gearbox will retain high accuracy and long life.
     Therefore, when specifying a gearbox, it is very important to balance the duty cycle requirements and the resulting desired accuracy from the outset. When selecting and optimizing a high-precision gearbox, we recommend working with specialists in the sales department.
    If the customer wishes to perform a check measurement of the LM and H parameters, this measurement is possible provided that the front end is at a temperature of 20 °C - 25 °C and the standard methodology for measuring the relevant parameter is followed. If these basic conditions are not met, it is not possible to declare the customer's measurement as identical to the measurements made at SPINEA®.