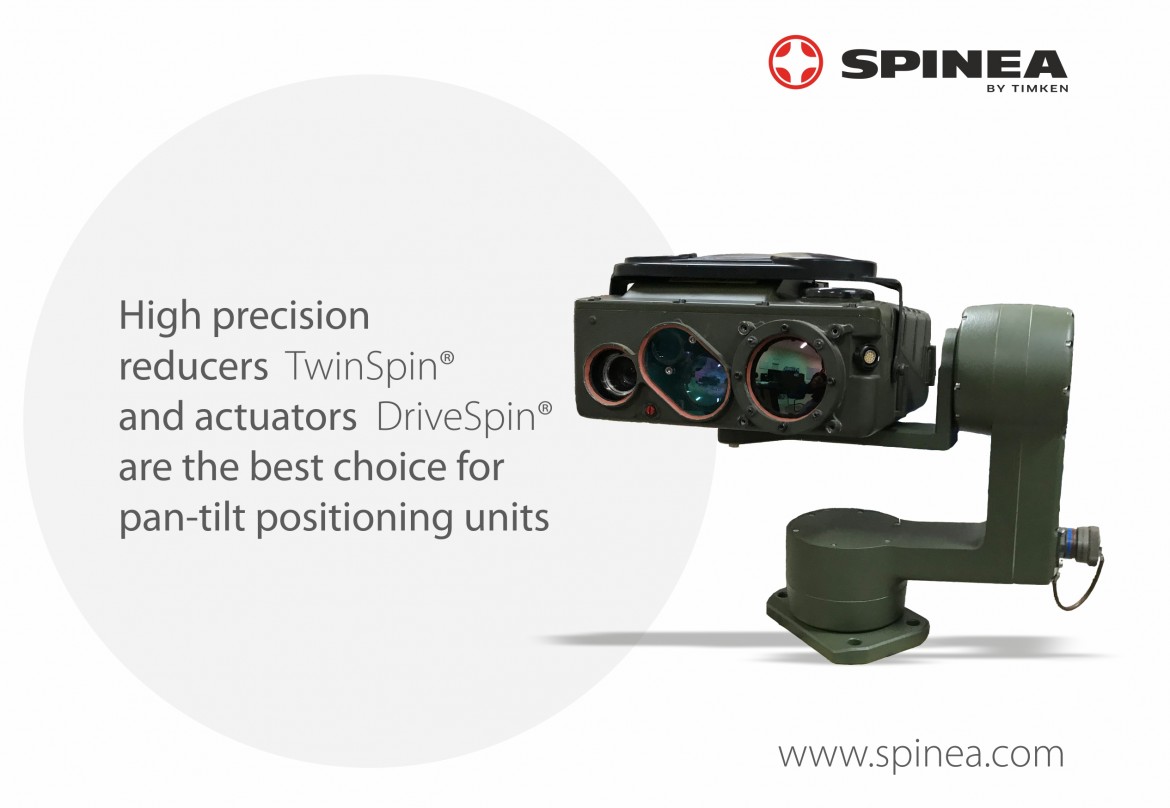 Pan-tilt units (PTU) are bi-axial manipulators with remote-controlled movement in the azimuth and elevation axis. They are most frequently used in the positioning of electro-optical systems (EOS) intended for detection, recognition, identification, and tracking of objects. Such systems are usually equipped with a daily camera with wide zoom capability, night vision InfraRed camera, and laser rangefinder serving for measurement of the exact distance of objects. They are used for state border surveillance, monitoring of the coastal areas and sea vessel traffic, air monitoring, etc.. Along with EOS, PTU is used also in other areas; for example in the positioning of communication systems (e.g. radars used in the navigation of unmanned aircraft during landing), various sensors (e.g. laser detectors used for detection, identification, and quantification of the presence of chemical war substances or toxic industrial chemicals) in anti-drone systems or in searchlights.
PTU comprises of the following basic components: body (box) where drive units are located; and bracket to which various devices are affixed (cameras, sensors, antennas, etc.). The box rotates around the vertical, so-called azimuth axis and the bracket makes tilting movement in the elevation axis. PTU can be used as either stationary or mobile units.
Based on the type of application, PTU drive units can use various mechanical systems.  Conventional gearing mechanisms (worm gears, planetary gears, belt & pulley or the set of spur gears, etc.) are sufficient for use in the stationary units for monitoring of objects in a short distance, or in remote-controlled searchlights
A different situation is when PTUs are used for monitoring objects over long distances or are applied in mobile units(vehicle-mounted systems, ship-mounted systems, etc.). In such installations, precise zero-backlash gears with high rigidity and vibration resistance are required to ensure necessary PTU properties.  The mobile unit equipped with a GYRO stabilizer is much more demanding in the terms of the control system and gears. Reduction gears ensure mechanical stabilization of OES. Stabilization is ensured through counter-movement to the gyroscope–detected movement. Reduction gears must respond to any terrain unevenness, and keep the cameras in the required position. It results in a high frequency of changes at movement direction by small angular distance. Therefore it is necessary to use high precision backlash-free reduction gears with low input inertia. This is the only way how to ensure reliable stabilization.  
The system requires higher shock resistance and vibration resistance. In other words, the system shouldn´t vibrate and it must operate in a reliable and defect–free way also in complicated conditions while exposed to repeated shock loads. Reduction gears used in such PTU must possess properties like robustness, high rigidity, and overloading capacity.
Further properties are also important, for example, small size reduction gears and their compact design because of limited installation space, as well as high torque density – i.e. torque to build-in dimensions ratio [Nm/m3]. These properties allow for PTU compact design of small build-in dimensions that are able to reach a high payload.
High precision reduction gears TwinSpin® and actuators DriveSpin® possess all the above properties and meet all demands laid on PTU azimuth and elevation axis motion control. Moreover, compared to competitive products, these reduction gears showed excellent performance at low temperatures, and extremely smooth operation in the micro-stepping arrangement, i.e. low revolutions of 0.0001°/s,  which allows for a stable picture of the slow movement of a monitored object in long distance.
Reduction gears TwinSpin® are available also in a "hollow-shaft"  version. This gear type has a through opening input shaft, where through this shaft hole in the gearbox used in the azimuth axis it is possible to lead cables for driving the elevation axis and for connection of electro-optical devices.
Thanks to their properties, precise reduction gears made by company SPINEA® represent the first choice of designers of PTU drive units. They are used by global PTU producers in many countries worldwide.