High precision reduction gear TwinSpin® is a combination of gear mechanism and output bearing. Inside the reduction gear, there are slow and fast-running bearings along with cycloidal wheels and like all reduction gears, it requires lubricant for its operation. SPINEA® in TwinSpin® reducers uses and recommends to use high-end lubricants based on synthetic oils with high viscosity index and high performing additive packages.  On the whole, we can choose between oil and grease as a lubricant and in this article, we will focus on their pros and cons in various applications.
Oil or grease?
Many people who use reduction gear in their equipment often ask this question. Thus, what is more, suitable for use – oil or grease?  
Oil
Oil has a better cooling ability than grease. It better removes heat from the contact surfaces, homogenizing the temperature inside the reduction gear, thus it is more suitable for applications with high speed and heavy-duty cycles.  
Flowing freely and mixing inside the reduction gear, oil homogenizes temperature, prevents local overheating and subsequent local oxidation, and decreases additives in the contact area of inner reduction gear components.
Oil is easily exchangeable, which allows for prolongation of the reduction gear life span in the equipment. For example, lubricant degradation and oxidation occur earlier in the applications with higher ambient temperature and reduction gear operating at temperatures above +60°C or in heavy-duty cycles, and early oil exchange ensures further reduction gear functionality.
In critical applications, oil condition monitoring and analysis represents one of the possibilities of the reduction gear and the condition of its inner components diagnostics. With properly chosen diagnostic methods we are able to determine the point when the oil condition is not acceptable anymore and requires exchange.  
Grease
With its strong adhesion to the components´ surfaces, grease reduces the risk of dry start, compared to oil.  
There is a lower risk of grease leakage from the reduction gear.  Reduction gears filled with grease are less prone to leakage than those filled with oil. Also, reduction gear sealing tends to wear less when lubricated with grease, since grease better adheres to the elastomer surface, ensuring thereby permanent lubricant supply to the sealing.
Grease reaches longer life in reduction gear in many applications without the need for exchange, which is important in case of difficult access to the reduction gear.  Reduction gears are also filled with grease for lifelong operation in case of small gears size because of complicated lubricant exchange.
Grease is more suitable in applications with reduction gear operated at lower temperatures than common room temperature. In such a case, grease covers a broad temperature spectrum while maintaining low starting torque. If we use oil with standard viscosity, starting torque and consequently motor load would significantly increase at low temperatures. 
Following up the above, when choosing a lubricant it is important to know the environment and loading cycles of reduction gear operation since the lubricant selection impacts reduction gear properties and the motor driving the gear. The graph below illustrates the no-load running torque of the reduction gear depending on the input speed and lubricant type.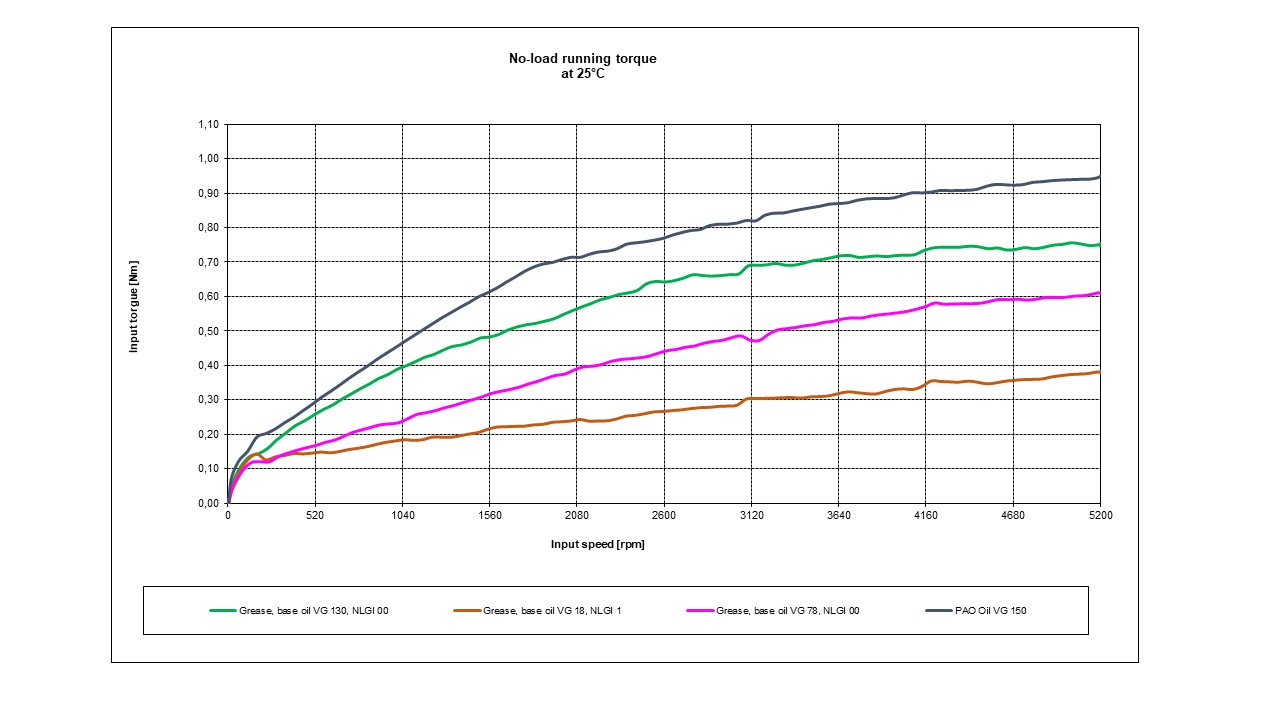 As seen on the graph, lubricant with base oil viscosity 18 mm2/sec. intended for low temperatures showed the lowest no-load running torque of the reduction gear.
If you find our article interesting and would like to get more information on reduction gears TwinSpin®, or need help to decide on the most suitable lubricant for your application, contact our sales department, please. Our experienced specialists will be glad and ready to provide you with expert advice on the selection of lubricant so as your equipment could reliably and correctly operate on a long-term basis.